Save the Date: Louisiana eCrash Workshops
July 27, 2023
Note: this press release has been updated to reflect updated locations, times, and registration links.
Baton Rouge, LA - Save the date for the 2023 Louisiana eCrash Workshops! The Louisiana Highway Safety Commission (LHSC) and Traffic Records Coordinating Committee (LATRCC) will be sponsoring two workshops for law enforcement, crash data users, and others to come together to share knowledge, enhance skills, and learn about the latest developments in the new Louisiana crash report and Louisiana eCrash reporting software.
Attend a workshop in either Baton Rouge or in Bossier City for a day filled with presentations designed to empower law enforcement by sharing the tools and knowledge needed to improve crash reporting and navigate the Louisiana eCrash application.
Key Highlights of the Conference:
Expert Presenters: experts will deliver engaging talks, providing valuable insights into the best practices for navigating the new crash report;
Interactive Presentations: get your questions about the Louisiana eCrash software and new crash report answered, and learn how to maximize their potential for your agency;
Application Demonstrations: learn how to maximize the potential of Louisiana eCrash for your agency through demonstrations of features in the application;
Networking Opportunities: connect with law enforcement, tech support, and crash data users to build relationships and share ideas.
SESSION #1: Baton Rouge
Location: LSP Training Academy
7901 Indepdence Blvd Baton Rouge, LA 70806 Time: 8 AM – 12 PM Register for the Baton Rouge Workshop!
SESSION #2: Bossier City
Location: Bossier Parish Sheriff's Office
2501 Viking Driver Bossier City, LA 71111 Time: 8 AM – 12 PM Register for the Bossier City Workshop!
The Louisiana eCrash Workshop will provide you with invaluable insights, skills, and resources to excel in your crash reporting efforts. Further details regarding registration, agenda, and speakers will be provided in the coming weeks. Mark your calendars for this must-attend event!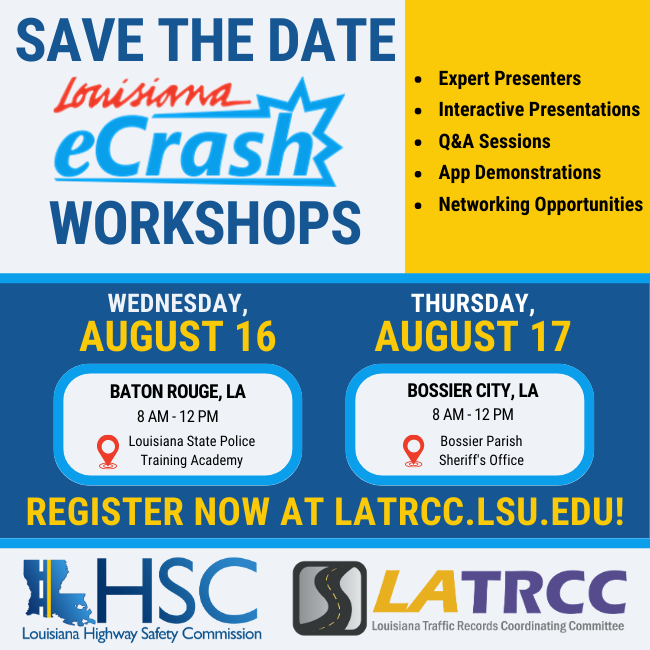 About CARTS
The Center for Analytics & Research in Transportation Safety (CARTS) is responsible for collecting, maintaining, integrating, analyzing and distributing crash-related data captured from law enforcement and other agencies throughout the State of Louisiana. CARTS utilizes this data to develop business intelligence (BI) and GIS tools, perform project studies, and produce an annual factbook. These tools and publications are used by decision-makers to identify potential problem areas, create countermeasures, set policies, and establish programs to improve the safety of our roadways in Louisiana. CARTS is a center within the E.J. Ourso College of Business at LSU.
###

Contact: Karla Houston, TRCC Coordinator (LATRCC@lsu.edu)
Center for Analytics & Research in Transportation Safety
225-578-0366