CARTS Shows Off Innovative Crash Data Projects in Austin
August 12, 2019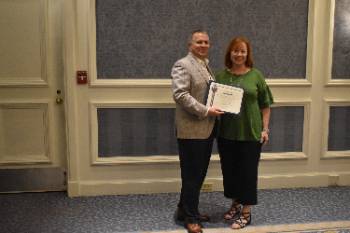 Cory (ATSIP President) presenting Karla Houston with a certificate of recognition for her service as a board member
Austin, TX – Last week, a majority of the staff at the Center for Analytics & Research in Transportation Safety (CARTS) flocked to Austin, Tex., to participate in an annual traffic records forum for the Association for Transportation Safety Information Professionals (ATSIP).
CARTS employees represented the State of Louisiana's dedication to improving highway safety by participating in six sessions dedicated to presenting their projects to highway safety professionals from around the world.
Business analytics manager David Whitchurch, along with GIS specialist Bethany Campbell and outreach program manager Jeannine Childers, gave a presentation entitled 'A Data-Driven Approach to HSIP Performance Measure Target Planning for MPOs.' This session gave an overview of the processes that CARTS used to create a tool that would aid metropolitan planning organizations (MPOs) in calculating performance measures and setting targets with performance measures from their Highway Safety Improvement Plans. Each presenter discussed his or her respective role in the development of the dashboard. Along with the overall layout and design process of the target-planning tool, they included a brief explanation of GIS processes (i.e. map-spotting crashes to pinpoint each crash's specific location on the roadway and vehicular miles traveled, or VMT estimation) and the SQL process flow used to assign crashes to a specific MPO area.
Whitchurch and Childers also returned to present a second session, along with student employee Nicholaus Hutchinson, on their creation of interactive infographics. Behavior programs and outreach opportunities like social media, education, data presentations, leadership groups, and driving schools often involve traditional, static infographics to illustrate crash data. Adding interactivity to these graphics, like these CARTS employees did to an alcohol-involved crash fatality graphic for Choices Matter Louisiana, allows target audiences to engage further with crash statistics. Presenters discussed the process flow of creating a graphic, like the one mentioned above, as well as some of the major considerations, such as data privacy for the individuals involved in the specific crashes illustrated in the infographic, and the challenges they faced when creating and disseminating the graphics.
Other presentations included Mark Verret and Jason Hines, who presented their crash analysis and road sections web application, and student employee Caleb Johnson who debuted a chatbot created to help visitors to CARTS' website find specific statistics more quickly. Staff members also participated outside the confines of traditional presentations; Karla Houston, the Louisiana Traffic Records Coordinating Committee (TRCC) coordinator, facilitated two roundtable discussions aimed at bringing state TRCC members together to solicit feedback and discuss common issues. Notably, the conference also marked the end of CARTS Director Cory Hutchinson's term as the president of the ATSIP Board.
About CARTS
The Center for Analytics & Research in Transportation Safety (CARTS) is responsible for collecting, maintaining, integrating, analyzing and distributing crash-related data captured from law enforcement and other agencies throughout the State of Louisiana. CARTS utilizes this data to develop business intelligence (BI) and GIS tools, perform research studies and produce an annual factbook. These tools and publications are used by decision-makers to identify potential problem areas, create countermeasures, set policies, and establish programs to improve the safety of our roadways in Louisiana. CARTS is a center within the E. J. Ourso College of Business at LSU.
###
Contact: Mary Churay
Center for Analytics & Research in Transportation Safety
225-578-0366