CARTS Hires New Computer Analyst
November 18, 2019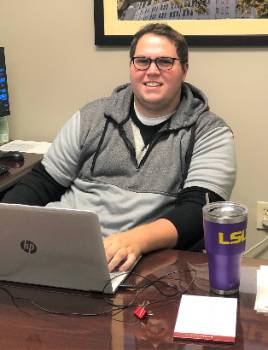 Chris Rodriguez
Baton Rouge, LA – The Center for Analytics & Research in Transportation Safety (CARTS) is proud to announce the hiring of a new computer analyst, Christian Rodriguez.
Rodriguez joins the CARTS staff as a member of the IT department. There he will work with current staffer Eric Newman to provide technical support to law enforcement officers for the LACRASH software. Law enforcement agencies throughout the state of Louisiana use the software system to capture motor vehicle accident reporting information electronically. The support staff is responsible for installing the software at agencies, system training for law enforcement personnel, and other usage support.
Chris has re-joined CARTS after spending two years working as a student in the Data Quality department. He graduated from LSU in the spring of 2019 with a BS in Computer Science and has a background in computer science, information technology management, customer service, and data analytics.
About CARTS
The Center for Analytics & Research in Transportation Safety (CARTS) is responsible for collecting, maintaining, integrating, analyzing and distributing crash-related data captured from law enforcement and other agencies throughout the State of Louisiana. CARTS utilizes this data to develop business intelligence (BI) and GIS tools, perform research studies and produce an annual factbook. These tools and publications are used by decision-makers to identify potential problem areas, create countermeasures, set policies, and establish programs to improve the safety of our roadways in Louisiana. CARTS is a center within the E. J. Ourso College of Business at LSU.
Contact: Chris Rodriguez
Center for Analytics & Research in Transportation Safety
225-578-3437