Campbell Presents Map at Esri User Conference
July 22, 2019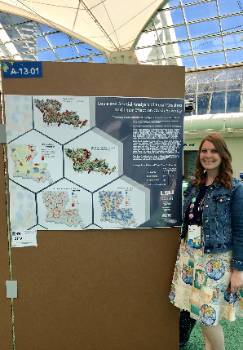 Bethany Campbell at ESRI
San Diego, CA – Bethany Campbell, a staff member in the GIS department at the LSU Center for Analytics & Research in Transportation Safety (CARTS), recently returned from San Diego, where she presented a map she collaborated on with GIS manager Jeff Dickey.
The Esri User Conference, an annual meeting of GIS professionals that use the Esri software, brought together a multitude of disciplines. Themed See What Others Can't, the conference featured presentations on topics about not only crash data, but also spatial data mining, applying spatial analysis techniques to promote better decision-making, and data visualization. The world-renowned primatologist Jane Goodall, for instance, attended the conference as a plenary speaker and discussed the role that Esri mapping analysis plays within her conservation efforts.
Bethany's presentation, entitled 'Louisiana Spatial Analysis of Rural Crashes and their Effect on Crash Severity,' explained that over a four-year period in Louisiana, about half of the fatal crashes involved no seatbelt use. Through Esri's Network Analyst toolset, CARTS has investigated the spatial aspects of rural crashes and explored the contributing factors to crash severity, such as alcohol and seatbelt use. Through an examination of distance of the individual crash locations to their nearest hospital, the GIS team at CARTS can further investigate the injury severity outcomes of rural versus urban crashes throughout the state of Louisiana. Analysis of the years 2012-2016 led Dickey and Campbell to create a poster showcasing several hexagon maps, some using 3D extraction, which they displayed in the Esri Conference's map gallery consisting of over one thousand maps.
About CARTS
The Center for Analytics & Research in Transportation Safety (CARTS) is responsible for collecting, maintaining, integrating, analyzing and distributing crash-related data captured from law enforcement and other agencies throughout the State of Louisiana. CARTS utilizes this data to develop business intelligence (BI) and GIS tools, perform research studies and produce an annual factbook. These tools and publications are used by decision-makers to identify potential problem areas, create countermeasures, set policies, and establish programs to improve the safety of our roadways in Louisiana. CARTS is a center within the E. J. Ourso College of Business at LSU.
###
Contact: Mary Churay
Center for Analytics & Research in Transportation Safety
225-578-0366