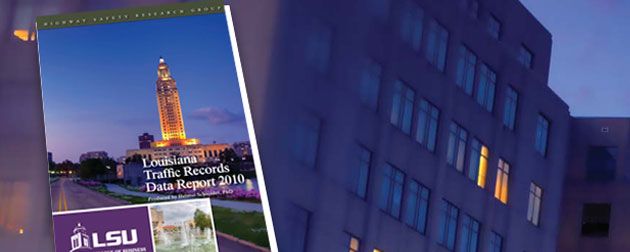 The Louisiana Crash Data Reports website is a compilation of statistical data based on information obtained on traffic crashes submitted by state, sheriff, and local police agencies throughout the state of Louisiana. A wide variety of crash data reporting information and statistics analysis is available regarding motor vehicle crashes and the variables that cause them.
Data from crash reports are collected electronically on a daily basis from law enforcement agencies using the state's crash reporting software LACRASH and periodically from other law enforcement agencies using third party software or submitting paper crash reports to the state. The Center for Analytics & Research in Transportation Safety (CARTS) at Louisiana State University analyzes the crash data on a nightly basis and updates the current year's crash data statistical reports to ensure that the most up-to-date information is available online. The support of gathering, processing, and reporting crash data statistics pertaining to the traffic safety activities in an accurate and timely fashion is a primary objective of CARTS.
Traffic records and traffic safety data are important! Many agencies throughout the state use these crash data statistical reports to help form the decision-making basis for policy setting and project selection towards improving the safety of Louisiana's roadways.
Louisiana Highway Safety Commission (LHSC) uses the crash reports to approve grants.
Department of Transportation and Development (DOTD) uses the crash data reports to identify high crash intersections or road segments and develop multi-million dollar safety projects.
Law enforcement officials use the crash data reports to deploy enforcement personnel.
Vehicle design engineers use the crash data reports to study crash dynamics from the information gleaned from police reports.
The U.S. Congress uses the crash data reports to appropriate billions of dollars in highway safety and construction funding.
CONFIDENTIAL INFORMATION- This web site is exempt from discovery or admission under 23 U.S.C. 407. - Contact the LADOTD Traffic Safety Office before releasing any information.