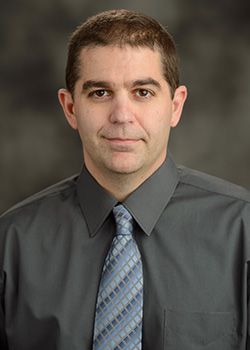 Randall Mark Verret Jr.
IT Manager, Center for Analytics & Research in Transportation
Campus Federal Credit Union Building
179 South Quad Drive
Baton Rouge, LA 70803
Biographical Summary
Mark Verret received his undergraduate degree from the University of New Orleans in 1999. He received his Masters of Public Administration in 2005 from LSU, and his doctorate in 2019 from LSU. He has been with LSU since 2001 working for the LSU Agricultural Center before coming to the CARTS in 2005. Mark supports the network infrastructure, server, and client systems for the organization. Additionally he maintains the database systems. Recent projects include designing and implementing database/file replication between two separate data centers for disaster recovery purposes. He is also managing the organization's business intelligence initiatives.
Education
BS Business Administration,University of New Orleans, New Orleans, 1999
PhD Human Resource Education and Workforce Development,Louisiana State University, Baton Rouge, 2019
MPA Public Administration,Louisiana State University, Baton Rouge, 2005
Interests
Research Interests: Business Intelligence, Data Warehousing, Agile Development, Agile Project Management
Teaching Interests: Business Intelligence
Presentations
Sara E. Graham and Randall Mark Verret Jr. (2017). Developing and Using a Application to Improve Data Cleaning Presented at Traffic Records Forum sponsored by Association of Transportation Safety Information Professionals, 2017
Professional and Service Activities
Information Resources Committee, Committee Member (August 1, 2014 - July 31, 2015)
Information Resources Committee, Committee Member (August 1, 2013 - July 31, 2014)
Information Resources Committee, Committee Member (August 1, 2012 - July 31, 2013)
Tableau User Group, Officer, President/Elect/Past (September 30, 2015 - August 11, 2017)
Employed by LSU since
August 20, 2001